Welcome to finals week in Wellington club rugby. UPDATE – a change in venues to the Hutt Rec.
Club rugby Finals on Saturday at the Hutt Rec at a glance (more coverage on this website later in the week):
Jubilee Cup Final (Premier Men's Div 1): Marist St Pats v Tawa; Hutt Rec 1, 2:30pm
Hardham Cup Final (Premier Men's Div 2): Petone v Poneke; Hutt Rec 1, 12:30pm
Ed Chaney Cup Final (Premier 2 Men's Div 1): Tawa v Hutt Old Boys Marist; Hutt Rec 2, 12:10pm
Paul Potiki Memorial Shield (Under 85kg Div 1): Avalon v Johnsonville; Hutt Rec 3, 2:20pm
Tony O'Brien Memorial Shield (Under 85kg Div 2): Old Boys University v Wellington; Hutt Rec 3, 12:10pm
+++++
Can't wait for Saturday?
Midweek school rugby returns on Wednesday. The big match of the day is at St Pat's Silverstream where the home side takes on St Pat's Town in their traditional First XV match, also doubling as an eighth round Wellington Premiership encounter. Kick-off at Silverstream is at 1.15pm.
On Thursday, Porirua College hosts Scots College in a Wellington Co-ed Cup knockout match. Kick-off at Porirua College is at 3.30pm.
On Wednesday and Thursday there is also a full round of schoolgirls Premier 1 and Premier 2 rugby.
+++++
A Wellington Lions XV will take on a Manawatu Turbos XV in a National Provincial Championship pre-season fixture at Levin this Friday afternoon (kick-off time TBC).
Both teams will be looking to hone their preparations ahead of the start of the NPC the following weekend, that sees Wellington hosting the Northland Taniwha at Wellington Stadium next Saturday night and Manawatu welcoming Counties Manukau to Arena Manawatu on Friday night.
The word on the street (perhaps not on Hardham Ave, see below) is that no Wellington Lions squad members will be ineligible to play on club rugby Finals Day.
At time of publication the Wellington Lions squad still has not been announced, so we await to see who those Marist St Pat's, Tawa, Petone and Poneke players will be.
+++++
The Wellington Pride will have to take their 'A' game to Christchurch on Saturday when they take on the red-hot Canterbury team in round three of the Women's NPC. Wellington had their bye this past weekend, after battling past Otago 13-5 in week one, while after beating Counties Manukau 59-12 in the opener, Canterbury beat Waikato 24-17 on Saturday.
+++++
Champion Black Ferns halfback Kendra Cocksedge became the first female in New Zealand to score 1000 points for a province when she scored 19 points for Canterbury in their win over Waikato. Cocksedge, who started the season on 970 points, scored 20 points in the first round win against Counties and reached triple-figures with her second converted try versus Waikato. Cocksedge holds the record for the most first-class points in women's rugby with 1378 in 148 games. She was the first, and so far only, player to pass the 1000-point barrier. She has kicked more conversions (330) and penalties (99) than any other player in New Zealand women's first class rugby. Only Selica Winiata with 112 tries has scored more tries than Cocksedge with 84. She holds every single individual points scoring record for Canterbury and has won four Farah Palmer Cup Premierships from 2017-20. She is the most influential player in New Zealand Rugby, man or woman.
+++++
Club Rugby would also like to know why this is the third consecutive year that the Pride have played Canterbury in Christchurch, when it is usual to alternate home and away matches against opposition in consecutive years?
+++++
Premier referee Colin Te Pohe has announced his retirement after 11 seasons and 62 games.
+++++
Avalon came from 21-3 down to beat defending champions Upper Hutt  Rams in the 85kg Division 1 semi-final. Scott Waldrom, aged 41, played for the Wolves.
+++++
In Auckland, an all University club U85kg final on Saturday saw the Squids beat the Debt Collectors 34-11. Both teams will potentially meet again in the Quarter-Finals of the National U85 Competition, with both in the top 32 as the national play-offs continue through the month of August.
+++++
Marist St Pat's were 10-0 at Evans Bay Park this season. Their supporters took to all suitable vantage points on Saturday:
+++++
Look out for our Guess the Score competition at the end of this week, ahead of the Jubilee Cup final. A bumper prize pack, including the Wellington club rugby jigsaw puzzle:
+++++
A couple of questions from readers last week about what has happened to the Andy Leslie Trophy? This was introduced in 2009 for the top qualifier at the end of the Jubilee Cup round-robin for the semi-finals. But with the new second round format now a straight knockout competition, that could be the end of this trophy. Perhaps it can get put up somewhere else?
+++++
It appears that the Billy Wallace Best & Fairest competition could be alive heading into Finals Day. The WRFU released an update on Saturday before the latest set of semi-finals matches.
Heading into the semi-finals, we had Luca Rees (Norths) on 14 points, Kemara Hauiti-Parapara (Tawa) on 13, Pakai Turia (Poneke) on 11, Greg Foe (Poneke) on 10, Shamus Hurley-Langton (OBU) on 10 and four players on 9 points including Riley Higgins (Petone) – who played on Saturday.  So, heading into the semi-finals, Rees, Hauiti-Parapara, Turia, Foe and Higgins were all still alive.
It would be great if interest in this competition was revived in future years, instead of it withering on the vine, such as it has since Stuff/Dominion Post stopped covering local sport and became a government PR publication.
+++++
A great weekend for Marist rugby in Christchurch. On Sunday Marist Albion beat Burnside 20-13 in the Metro Premier final. After finishing sixth in the round-robin, Marist knocked over the top two sides, Christchurch (18-15) and Lincoln (23-12) en route to the title. On Saturday St Bede's College beat Christchurch Boys' High School 43-18 to stay top of the Crusaders First XV championship.
+++++
Similarly, a fantastic weekend for the Greytown Rugby Club, winning the Moose Kapene Cup final. Greytown beat Carterton 30-25 in the final.
+++++
The Wellington Saints won their 12th National Basketball league title on Friday night with a 77-75 victory over Hawke's Bay. The next day former player Randall Bishop scored a runaway try in Tawa's 29-18 win over Hutt Old Boys Marist in the Jubilee Cup semi-final:
+++++
Most NPC squads have been named now for the upcoming National Provincial Championship (SRDC). Although consiederably fewer in numbers to past years, there are some former Wellington players in other squads. For example, former Scots College and Wainuiomata loose forward Henry Stowers has been named in the Canterbury squad. Stowers has had previous stints with Bay of Plenty and with the Western Force.
+++++
Another player who could be heading to the mainland is Kemara Hauiti-Parapara. The Tawa halfback had played 43 games for Wellington, but it's understood he will play for Southland in the 2021 NPC.
+++++
+++++
An 8-9-10 haircut combination. No. 8 Greg Foe (green hair), halfback Jimmy Lee-Hongara (rustic hair – background) and first five-eighth Pakai Turia (purple hair) all paid a visit to the hair dye bottle pre-game on Saturday. It worked, as it powered them to a late charging 46-22 win over Wainuiomata. They play Petone in the Hardham Cup final this Saturday.
+++++
The British and Irish Lions beat South Africa 22-17 in the first test of the three-match series. It's the sixth time the Lions have beaten South Africa in the first encounter. The other occasions are:
1891: (4-0) – English centre Randolph Aston scored one of his tour leading 30 tries as the Lions won in Port Elizabeth on their way to a perfect 20-0 record. Scotsman Bill Maclagan was captain. He played 25 tests for Scotland and was involved in the 1884 test between Scotland and England where an argument over a disputed try was so intense Scotland refused to play England the following season.
1896: (8-0) – Lions tours started in 1888. The first tour to feature Irishmen was in 1896. Arguably the best of the nine Irishman selected was Lawrence Bulger known as 'Fat Cupid.' The doctor and national 200-meters sprint champion scored a tour leading 19 tries in 21 games. English co-captain Thomas Creen won the Victoria Cross for valour during World War I.
1955: (23-22) – Watched by as many as 100,000 at Ellis Park, Johannesburg (including future president Nelson Mandela) the Lions lost flanker Reg Higgins early in the match with a broken leg. However, inspired largely by the brilliant play by flyhalf Cliff Morgan (best known to Kiwis for his commentary of Gareth Edwards try for the Barbarians against the All Blacks in 1973) the Lions skipped ahead 23-11. With no replacements permitted for injuries the Lions inevitably tired and the Springboks railed. This match is regarded as one of the greatest tests the Lions have ever played.
1974: (12-3) – The 1974 Lions were renowned for their attacking brilliance and didn't lose in 22 matches, despite many violent incidents. Ironically they won the first test in Cape Town with three Phil Bennett penalties and a Gareth Edwards drop goal. The coach of the 74 Lions was Irishman, and future World Rugby chairman, Syd Miller. The captain was Irish lock Willie John McBride who made five Lions tours as a player.
1997: (25-16) – Alan Tait, the great Scottish centre/wing and rugby league champion secured victory with a try close to fulltime. Welsh first-five Neil Jenkins would kick 10 penalties in two tests against the ill-disciplined world champions. The tour captain was English Lock and 2003 World Cup winning skipper Martin Johnson.
+++++
"Winning at All Costs Is Not True Leadership"
The following was published in Sunday's edition of "For The Love Of The Game", the official e-zine of the New Zealand Amateur Sport Association Inc.
The Latin phrase "inter arma enim silent leges" is popularly translated as, "in times of war, the law falls silent." Much of New Zealand's sporting nationalism has militaristic origins, with the "ANZAC spirit" experienced on the battlefield well over a century ago, still resonating in many sport arenas and in the rhetoric associated with many sporting contests, even today.
---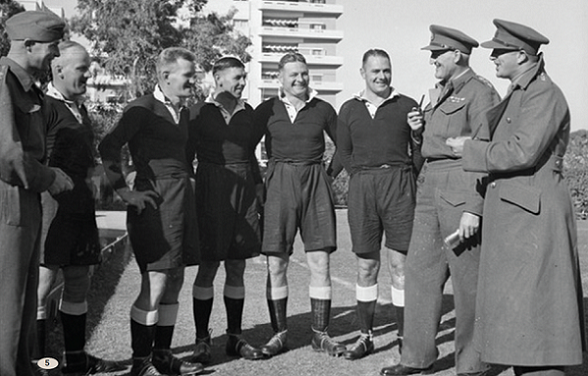 (The "ANZAC spirit" is a key part of New Zealand's sporting nationalism)
---
However there is fine-line between equating sport to "war on a battlefield" and imperiling the values and spirit of the sporting contest itself. U.S. based sports journalist, Ray Hennessey writes, "when you lead by telling your team to "win at all costs", you can end up with a team that doesn't know right from wrong. When you set out to win and don't count the costs, you end up paying far more than you expected." In short, you may win "the title", but you may also lose the community respect that you had hoped to gain by doing so.
---
(Amateur sport's goal is to celebrate universal ideals, which bring people together)
---
In "war", societies fight over national ideals that imperil their way of life. In sport, societies celebrate universal ideals that bind communities together. When we can no longer distinguish one from the other when engaging in competition, the purpose of the sport itself has been lost. In amateur sport, while there will always be a winner or loser in any contest, if society is not stronger for the contest occurring, then it should not occur at all.